We all know it will be years before we understand the broader impact of COVID on the health of children, but I'm doing my best to measure what I can now. I've highlighted two other clinical issues (obesity and unequal flu shot distribution) already, so today we will tackle well visits.
Is it possible that there's a silver lining to the pandemic? Pediatricians have had both the time and resources to focus more heavily on on preventive care (the most important work they do), a perspective that is long overdue. I realize that all of my clients value preventive care dearly, but they have to balance their resources between getting kids in for well visits against the demand kids have for sick visits. It's also difficult to get those teenagers in (and pediatricians generally loathe the idea of having "market" themselves).
The pandemic has reset a lot of those variables. With sick volume down 50% or more in most of the country, practices now have room in their schedules (and staff to track down patients).
With that in mind, here's what PCC's client well visit coverage rate looks like, by month, going back well before COVID. It represents well over 10m kids, so the sample size is good, though the sample may be biased because of the tools and services PCC providers them - but I feel confident that the patterns are similar regardless of EHR vendor.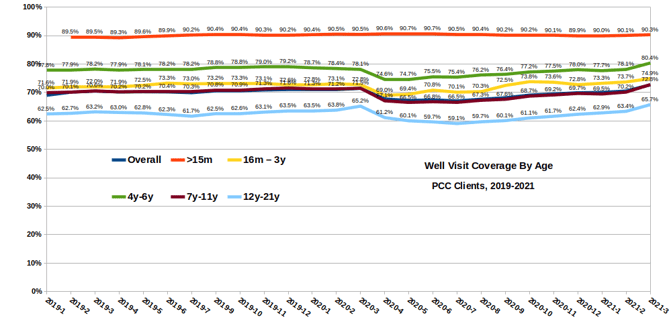 [UPDATED GRAPH - click on the image to zoom in for details]
What do we see?
This graph reminded me that there's a funny issue going on here - the kids who are most likely to be missing well visits, screenings, etc., right now are the ones born in March or April. Kids whose well visit cycle landed in Oct through February are largely unscathed. I have to think about what this means from a Malcolm Gladwell perspective.
There is a mild annual cycle of well visit coverage related to the summertime well visit process. It's most obvious in the 12y-21y crowd, check out July 2019 and 2020. We see this in other years as we go back, too.
COVID hitting is easy to spot. What's fascinating is how it affected each age group differently:

Newborn well visit volume was almost unaffected by COVID.
Toddlers (16m-3y) and 4-6yo children fell off immediately but by May 2020, they generally had a strong, steady increase.
Teenage well visit rates, on the other hand, continued to decline until July before they started to pick back up. This does seem to correlate the pattern from 2019.

I don't know if the drop in Feb is legit or not. I can't imagine that it is, I think it's just related to a lag in data collection. I'll know more next month! Update: fully gathered data shows no Feb dip.
Note that in order for the well visit rate to decrease and then catch back up, pediatric practices have to do many more well visits than usual. That fill in the hole dug my COVID is impressive. Because...
...you'll see that almost every age group effectively gets back to its former peak or better. Amazing. Nonetheless, 30% of your population is still overdue.
Anyone else see anything here?