I'm in the midst of some fun RVU analysis and I realized that I'd better get this announcement out stat! It's just like our other PM/Coding events, though the AAP endorsement hasn't happened yet (it should be a week or two). Sign up quickly, as we expect this one to be a good size. The proximity to the airport makes this an easy trip for a lot of folks:
http://pedsource.com/events/pediatric-coding-practice-management-conference
Thursday, January 15 2009 — Irving, Texas (Dallas area near the airport)
Put your practice ahead of the curve with PCC's January 2009 Pediatric Coding and Practice Management Conference. Pediatric coding and practice management experts address key issues during a full day of courses with question and answer sessions designed to improve your coding practices and reimbursement.
The January 15 Pediatric Coding Conference will be held at the Sheraton Grand Hotel in Irving, Texas just outside of Dallas.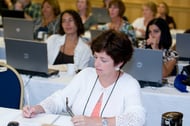 This is an intensive, one-day session focused on important pediatric specific coding and practice management issues that affect your practice every day.
You'll master the coding basics, get answers to your specific questions during Q&A sessions with our pediatric panel, and gain valuable insight on timely topics about immunizations, pay-for-performance programs, physician compensation, and more.
Earn 5.0 CEUs!*
You'll also earn CEU credit for attending this conference. This conference has prior approval of the American Academy of Professional Coders for 5.0 Continuing Education Units. Granting of this approval in no way constitutes endorsement by the Academy of the program, content or the program sponsor.
Our expert panel of instructors includes Richard Lander, MD, Richard Tuck, MD, and PCC's Chip Hart.
Register Now Admission to this conference is only $325 for AAP members ($379 for non-members)! To receive your discount, enter the discount code PCC AAP.
Download the conference brochure, with complete course descriptions, instructor bios, and an order form.
Event Schedule