It's official. Paul Vanchiere and the Pediatric Management Institute have opened the Certified Pediatric Office Executive Program (CPOE) for business. While those of us in the pediatric consulting space have all been talking about doing something like this forever, Paul actually went and did it.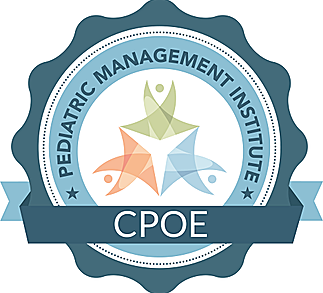 The initial roll out includes 20 "core courses" that teach the fundamentals of running a pediatric practice. Yours truly may have contributed a few. If you want to pass the certification, you have quizzes, a final essay, and a Capstone project to submit. One thing I like most is that the program will continue to have topics added monthly and those who want to maintain certification need to stay current with the topics. Actually, let me just cut and paste the details:
Learn from industry experts from 20 core courses the information you need to know to run a Pediatric practice from the comfort of your own home via an industry-leading online learning platform (Dedicated iPhone and Droid app will be provided)

Complete the CPOE learning requirements:

Complete the assessment quiz after viewing each course​ video

Complete the final exam after you successfully pass the initial 20 courses

Submit an essay designed to articulate your mastery of the materials presented

Complete your "Capstone Project" designed to share with fellow members how you successfully applied the knowledge learned to improve your practice

One-on-one interview via online conference with select faculty to discuss the knowledge gained

Each month PMI will post a new course for CPOE registrants to provide continuous learning. The completion of six monthly courses per year is required to maintain certification.

Engage with colleagues around the country via the member-only discussion board

Receive exclusive discounts from PMI for future events and services
Check out the initial course listing:
Budgeting For Pediatric Practices

Corporate Structures

Effective Interviews To Find The Right People

Effectively Marketing For Your Pediatric Practice

Equipment Lease Versus Purchase

Financial Key Performance Indicators (KPI's) In Pediatrics

How To Determine The Value Of A Medical Practice

How To Easily and Accurately Set Your Prices Using RBRVS

Physician Compensation Models

Physician Employment Options

Practice Financing: Lines Of Credit & Loans

Process Improvement In Your Practice

RBRVS- What It Is And How It Affects Practices

Reading Financial Statements

Reducing No-Show's In Pediatric Practices

SWOT Analysis For Pediatric Practices

The Business Of Immunization

True Cost Of Billing Department And Outsourcing

Using PCMH Components To Increase Efficiency & Productivity

Value-Based Contracts For Pediatric Practices
Why am I excited about this? It's selfish, really - if every practice I work with had these topics under its belt, my job would be a lot easier. I won't mind if I never have to give an RVU talk again because people now understand the concept. Or to have to explain a budget or what a partnership is.
Go check it out and, if it makes sense, sign up. Although I think most pediatricians could benefit from this content, perhaps it is your practice manager whom you need to sign up.