Let's learn about something new about pediatric behavior today. It's interesting.
How often do pediatricians code visits with one of the "after hours" CPT codes (99050, 99051)? Are well visits part of the mix? Is there a pattern? I've written a lot about "scheduling-based codes" in the past (here, here, here, here, and here are some examples) but I've never shared some of the data.
First, let's start with the baseline. We looked at over 4.5m sick and well visits from our clients over the last year and a half. 7.6% of those sick visits were accompanied by a 99050 or 99051. 1.4% of the well visits followed suit. For those scoring at home, that's a 5.4:1 Sick:Well ratio for after hours visits, which although is a far cry from the ~1.4:1 ratio that exists during the day, still implies that some practices do provide well visits after hours. The average of these two visits types is 5.1%, or on in every 20 visits is coded with after-hours codes.
I then wondered if there's a cycle to after-hours demand as well. Check it out (click to zoom):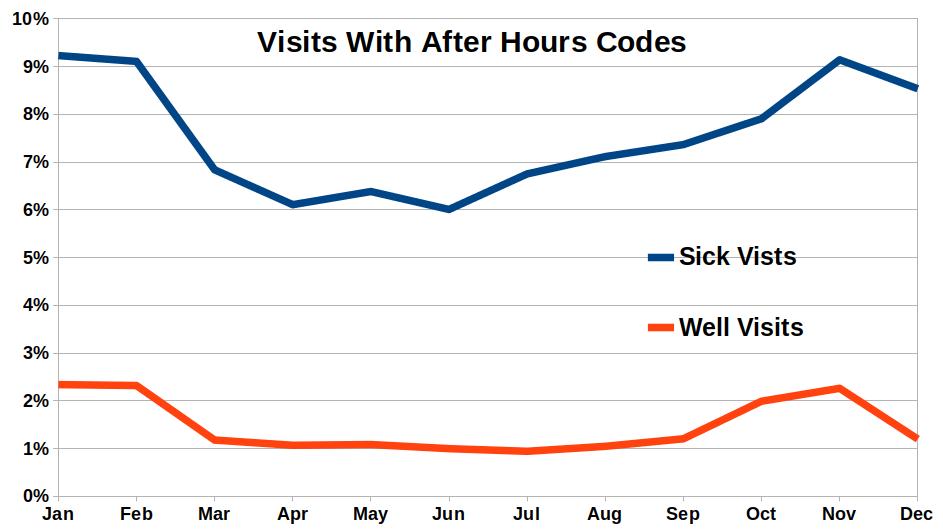 No surprise that after hours sick visits dip by ~30% as we roll into summer. I'm not surprised to see well visit demand peak through the fall months but am surprised to see it last through February. This may come into play this year with COVID, we'll see.
Thoughts? Any of this not ring true for you?