I've got a lot to throw at you. Jan will have an updated COVID-19 coding guide to me shortly and she will be presenting for SOAPM in a week or so (links to follow). Dr. Joe Hagan, of Bright Futures fame, has a video about how to leverage Bright Futures in this new COVID world. The COVID forum hosted by PMI is getting busy and valuable. And we have just under 1500 people signed up for the second "Business Impact Of COVID-19 On Pediatric Practices" webinar.

But some data first.
Multiple times a day, we gather important performance data from our customers and analyze it for patterns. Because of the typical charge lag in a pediatric practice (perhaps made worse by recent events), we've had to wait for a little bit to have something complete enough to share. We're about to push this all out to our clients and are working on a public page while we try to predict the impact of COVID on independent practices. When it's available, I'll share here. Until then, we can start with these results: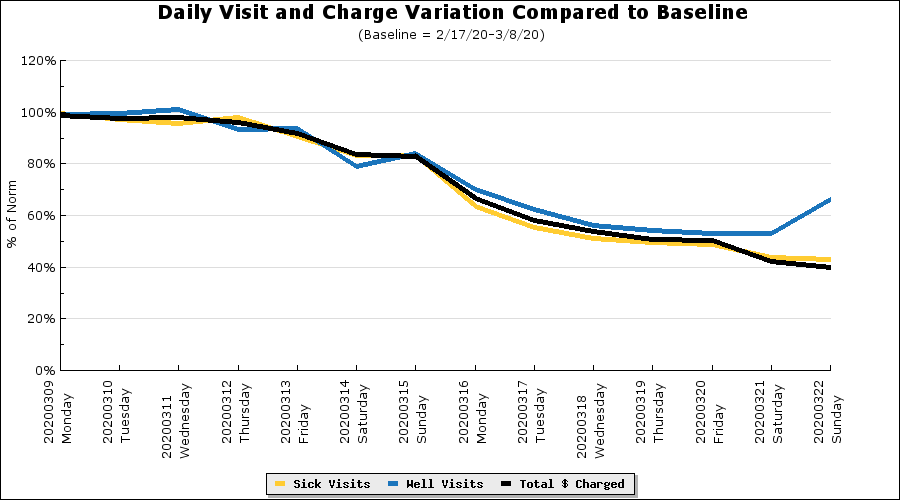 Here, we took the three weeks from 02/17 through 03/08 and identified a daily average for well and sick visit volume and for daily charges for each day of the week (as volume varies significantly in peds offices by day). In other words, we set the average Monday sick visit volume to 100% and compared subsequent Mondays since then.

You will notice an unmistakable trend downwards with pediatric practices seeing a well visit/sick visit/charges volume matching roughly half of the expected volume by Friday 03/20. It's interesting to see that weekends are driving well visits - certainly not enough to resolve everything, but it's something to think about.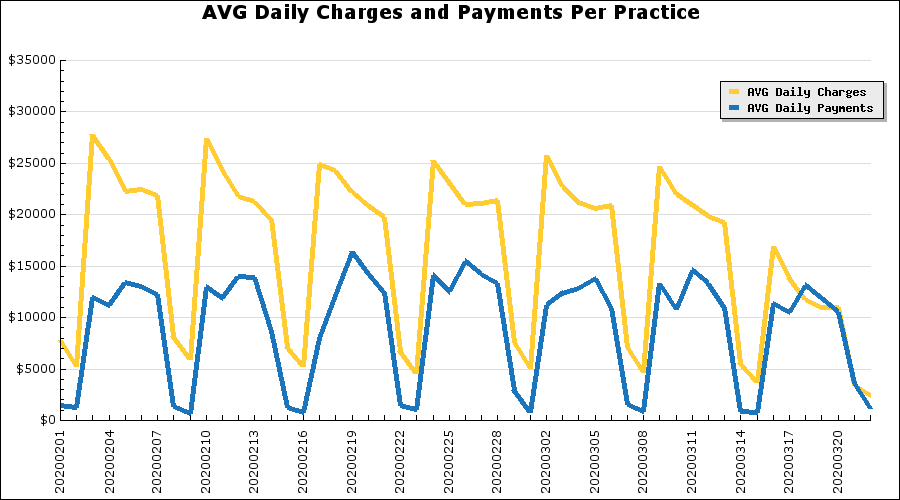 Here, we follow the average total charges and payments by practice (a PCC client is roughly 4 clinicians, on average). You can see that charges started to drop during the week of 03/08-14 but took a nosedive on Monday, March 16. By Wednesday, pediatricians were collecting more in revenue than they were actually charging - a reflection of the charges from 14-30 days previously. In the middle of next week, we will have this chart updated through THIS week and we'll really start to see what's happening.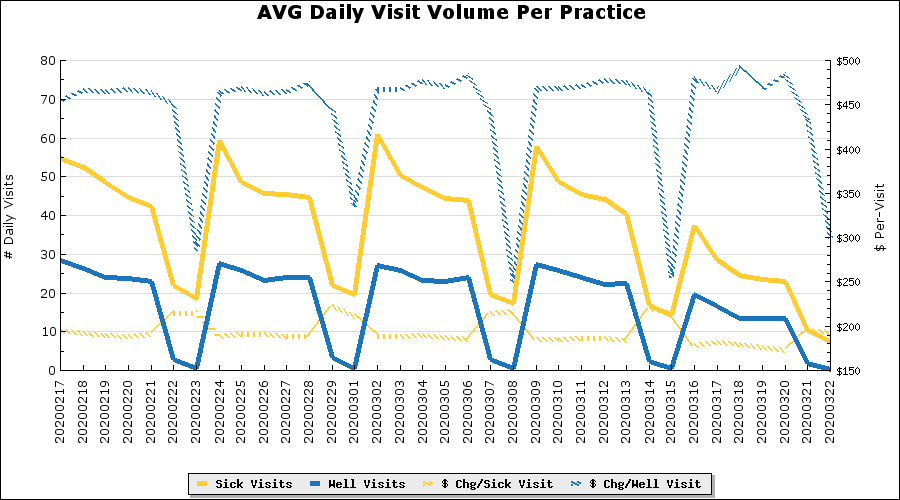 Another view of the productivity. You can see how the weekly visit patterns are consistent (Monday is always the busiest day by far). Notice that while both sick and well visits are falling, sick visits are falling faster. The spikes in well visit per-visit charges are related, we believe, to the increased focus on well visits that include vaccines and that number will continue to climb. The drop in sick visit per-visit charges is a likely reflection of the increase in non-f2f visits. I'll look into the EM& distribution, etc., shortly.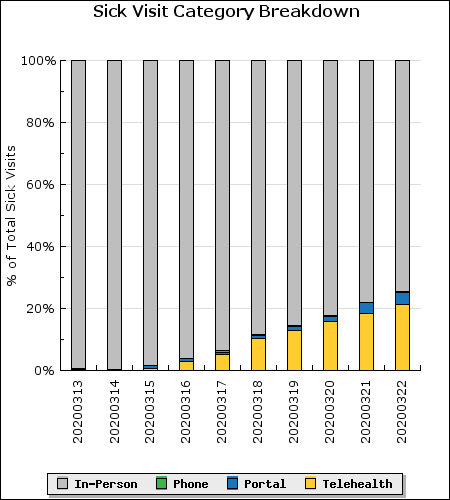 Finally, for now, we map the relative volume increase of telehealth relative to the overall sick visit volume. Our clients crossed the 20% line on 03/21.

See you tonight, I hope.