Let's go in reverse order.
What are you doing next Saturday, Feb 1? How about March 22 or April 5? Unless you and your practice are already the masters of everything you do, how can you not afford to attend one of the PMI Pediatric Management conferences? We have had rave reviews after each conference and I just noticed that practices are already sending additional folks. That's right - they learn so much at one event that they send more people to the next one. On Saturday, I noticed that 1/3 of the room is made up of PCC clients - and they get a free Users' Conference in July!
I hope to see you there.
---
Brandon and I released our 20-somethingth media cast last week. I walk folks through pricing and payments using the 2014 RVU Calculator - you can see it in action, get a sense of how it works, and now download and use it for your own practice.
You can watch the video on Brandon's Pediatric Inc. page or listen to the podcast directly from the podcast page (or iTunes).
---
Last, but not least, we have a new pool - where are you on the ICD-10 preparation spectrum? At PCC, we've noticed a very wide range of understanding of not only what needs to be done, but why. (You can read an editorial I did about one small aspect of this issue here.)
What did we learn from the first poll? The question was about Medicaid parity payments. Who is getting them, who isn't?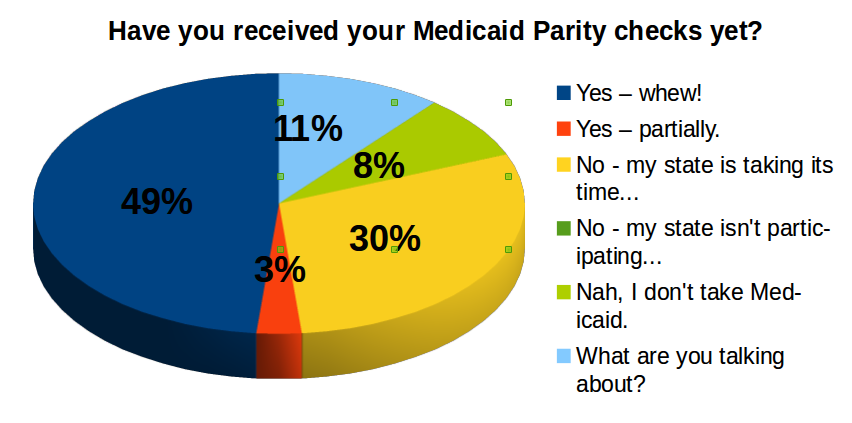 It looks as though 1/2 of my readers have started to receive money while a solid 30% are still waiting. No one answered that their state isn't participating...which either means none of my readers in, say, Texas responded to the poll OR that those who did don't take Medicaid. Or some other combo that highlights my bad poll design.
What keeps me up at night are the 11% who don't know what I'm talking about here. Does anyone really need an explanation? If so, just ask!
Remember, you can subscribe to this blog by entering your email in the upper right corner.