The Independent Pediatrician continues to thrive! Our fifth issue is on its way to approximately 60,000 recipients via co-delivery with Contemporary Pediatrics.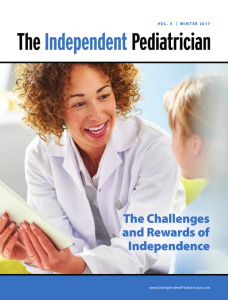 If you would like to read it in advance of your printed version, you can grab the digital version on-line. This is my favorite issue so far, with new articles about Dr. John Sutter and his fight against Oxford that he took all the way to the Supreme Court and the birth of Tiger Pediatrics in Missouri. We've got a followup piece on Dr. Robin Warner in Kentucky and an interview with everyone's favorite, Dr. Suzanne Berman in Tennessee. And a little editorial by yours truly.
Let us know what you think!